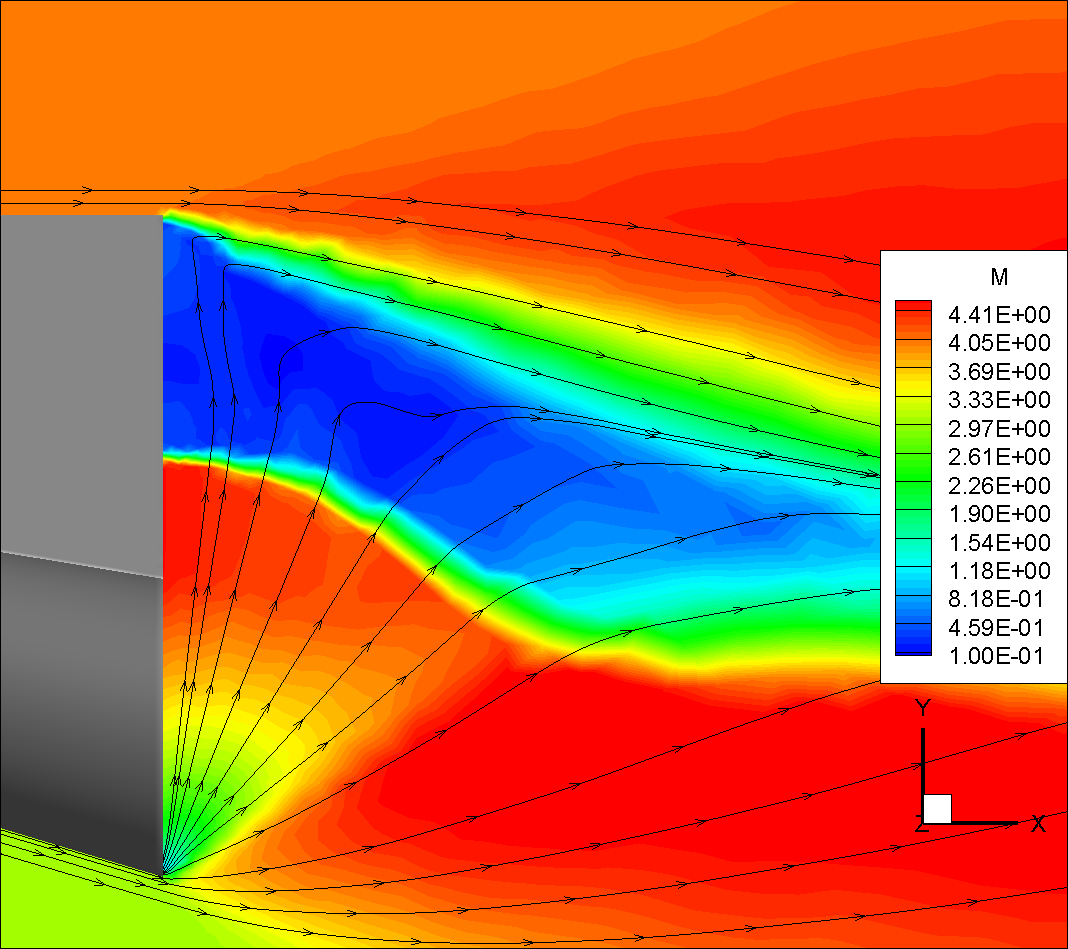 The current paper contains the elliptic cone waverider and inclined cone waverider aerody-namics calculations results. The comparison between the numerical and experimental data was performed for the wide range of the angles of attack and sleep angles. All results was ob-tained by the UST3D code using different Riemann solvers within the framework of the splitting method. The acceptable agreement between the present results, the thin-layer Na-vier-Stokes and also parabolized Navier-Stokes data was demonstrated.
Keywords: finite volume method, splitting methods, Riemann solvers, waveriders
Численное моделирование аэродинамики волнолетов построенных на скачках уплотнения различной формы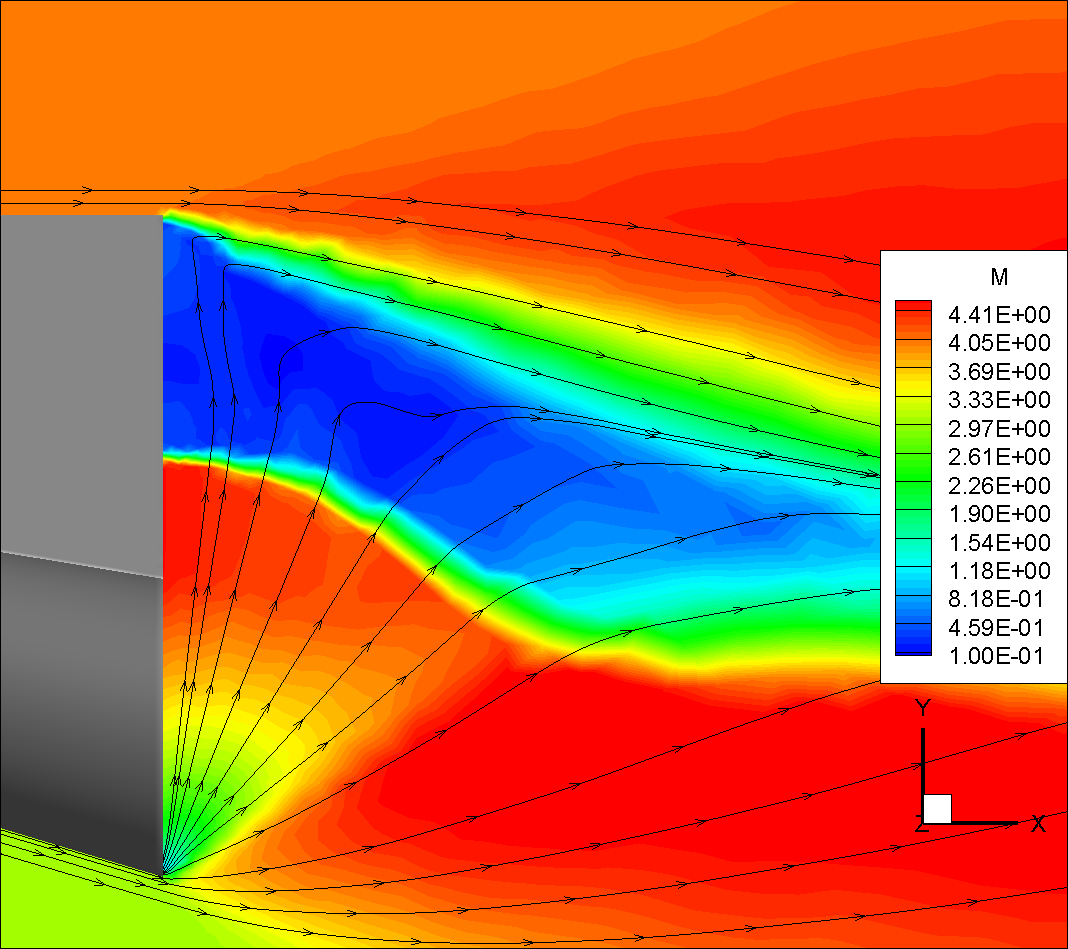 В рамках настоящей работы представлены результаты систематических расчетов аэродинамических характеристик высокоскоростных летательных аппаратов – волнолетов, построенных на ударных волнах, образующихся при обтекании эллиптического или наклонного кругового конуса. Выполнено сравнение результатов численного моделирования с экспериментальными данными, полученными для различных углов атаки и скольжения. Продемонстрированы особенности совместной реализации метода расщепления по физическим процессам и одного из вариантов AUSM схемы. Проведено сравнение результатов расчетного исследования, осуществленного с использованием компьютерного кода UST3D и его модификации, со сторонними расчетными данными по аэродинамике различных конфигураций волнолетов, полученных с применением структурированных сеток, уравнений Навье-Стокса в приближении тонкого слоя, а также
параболизованных уравнений Навье-Стокса.

Ключевые слова: метод контрольного объема, расщепление по физическим процессам, распад произвольного разрыва, аэродинамика волнолетов

References
1. Bowcutt K.G., Anderson J.D., Capriotti D. Viscous Optimized Hypersonic Waveriders
AIAA Paper 87-0272, 1987, pp.1-19 https://doi.org/10.2514/6.1987-272
2. Mazhul I.I. Teplofizika i ajeromehanika, 2007, vol.14, no.1, pp. 99-112 http://sibran.ru/journals/issue.php?ID=120101&ARTICLE_ID=126719
3. Voronin V.I., Zakharchenko V.F., Shvets A.I. PMTF, 1994, no.4, pp. 81-87 http://sibran.ru/journals/issue.php?ID=119954&ARTICLE_ID=133534
4. Vanmol D.O., Anderson J.D. Heat Transfer Characteristics of Hypersonic Waveriders with an Emphasis on the Leading Edge Effects NASA Contractor Report 189586, 1992, 128 p. https://ntrs.nasa.gov/archive/nasa/casi.ntrs.nasa.gov/19920012972.pdf
5. Cockrell Ch.E. Vehicle Integration Effects on Hypersonic Waveriders NASA-TM-109739, 1994, 132 p. https://ntrs.nasa.gov/archive/nasa/casi.ntrs.nasa.gov/19940029612.pdf
6. Kammeyer M.E., Gillum M.J. Design Validation Tests on a Realistic Hypersonic Waverider at Mach 10, 14 and 16.5 in the Naval Surface Warfare Center Hypervelocity Wind Tunnel No. 9 NSWCDD/TR-93/198, 1994, 93 p.
7. Lewis M.J., Gillum M.J. Analysis of Experimental Results on a Mach 14 Waverider with Blunt Leading Edges AIAA Paper 96-0812, 1996, pp. 1-23 https://doi.org/10.2514/6.1996-812
8. Maikapar G. I. Bodies Formed by the Stream Surfaces of Conical Flows Fluid Dynamics, 1966, vol.1, no.1, pp. 126-127 https://doi.org/10.1007/BF01016277
9. Rasmussen M.L. On Hypersonic Flow Past an Unyawed Cone AIAA Journal, 1967, vol.5,
no.8, pp. 1495-1497 https://doi.org/10.2514/3.4228
10. Rasmussen M.L. Approximation for Hypersonic Flow Past a Slender Elliptic Cone
AIAA Paper 79-0364, 1979, pp. 1-11 https://doi.org/10.2514/6.1979-364
11. Rasmussen M.L. Waverider Configurations Derived from Inclined Circular and Elliptic Cones Journal of Spacecraft and Rockets, 1980, vol.17, no.6, pp. 537-545 https://doi.org/10.2514/3.57771
12. Yoon B.-h. On-Design Solutions of Hypersonic Flows past Elliptic-Cone Derived Waveriders KSME Journal, 1992, vol.6, no.1, pp. 24-30 https://doi.org/10.1007/BF02954460
13. Rasmussen M.L. Experimental Forces and Moments on Cone-Derived Waveriders for M=3 to 5 Journal of Spacecraft and Rockets, 1982, vol.19, no.6, pp. 592-598 https://doi.org/10.2514/3.62306
14. Liao J.-R., Isaac K.M., Miles J.B., Tsai B.-J. Navier-Stokes Simulation for Cone-Derived
Waverider AIAA Journal, 1992, vol.30, no.6, pp. 1521-1528 https://doi.org/10.2514/3.11096
15. Kato H., Tannehill J.C. Numerical Calculation of Viscous Flow Over Hypersonic Waveriders
AIAA Paper 97-2292, 1997, pp. 1-11 https://doi.org/10.2514/6.1997-2292
16. Surzhikov S.T. Validation of computational code UST3D by the example of experimental aerody-namic data Journal of Physics: Conference Series, 2017, vol.815, no.12023 https://doi.org/10.1088/1742-6596/815/1/012023
17. Surzhikov S.T. Comparative Analysis of the Results of Aerodynamic Calculation of a Spherical Blunted Cone on a Structured and Unstructured Grid Journal of Physics: Conference Series, 2019, vol.1250, no.012007 https://doi.org/10.1088/1742-6596/1250/1/012007
18. Yatsukhno D.S. Computational study of the waverider aerothermodynamics by the UST3D com-puter code Journal of Physics: Conference Series, 2018, vol.1009, no.012002 https://doi.org/10.1088/1742-6596/1009/1/012002
19. Yatsukhno D.S, Surzhikov S.T. Herald of the Bauman Moscow State Technical University: Me-chanical Engineering, 2018, no.1, pp. 20-33
20. Kryuchkova A.S. Development and testing of non-viscid solver based on UST3D programming code Journal of Physics: Conference Series, 2019, vol.1250, no.012009
https://doi.org/10.1088/1742-6596/1250/1/012009
21. Jentry R.A., Martin R.E., Daly B.J. An Eulerian Differencing Method for Unsteady Compressible Flow Problems J. Comput. Phys, 1966, vol.1, no.1, pp. 87-118
https://doi.org/10.1016/0021-9991(66)90014-3
22. Shyy, W., Thakur, S.S., Ouyang, H., Liu, J., and Blosch, E. Computational Techniques for Com-plex Transport Phenomena, Cambridge University Press, 1997, 321 p.
23. Hu Z., Zha G. Simulation of 3D Flows of Propulsion Systems Using an Efficient Low Diffusion
E-CUSP Upwind Scheme AIAA Paper 2004-4082, 2004, pp. 1-12
https://doi.org/10.2514/6.2004-4082
24. A.L. Zheleznyakova, S.T. Surzhikov Calculation of a hypersonic flow over bodies of complex configuration on unstructured tetrahedral meshes using the AUSM scheme High Temperature, 2014, vol. 52, iss.2. pp. 271-281 https://doi.org/10.1134%2FS0018151X14020217
25. Silvestrov P., Surzhikov S. Calculation of aerothermodynamics for high-speed aircraft X-43 using computer code UST3D and UST3D-AUSMPW Physical-Chemical Kinetics in Gas Dynamics, 2019, vol.20, iss.4. http://chemphys.edu.ru/issues/2019-20-4/articles/865